4 Beautiful DIY decoration ideas to give your home a festive makeover
The festive season in India continues all year long! While you shop for yourself, your family and friends for special occasions, your home also needs a festive makeover from time to time!
That does not mean you have to sink your bank account to decorate your home for festivals! You can go for easy yet trendy DIY festive decoration ideas for your home! Making something creative with your own hand for your home is rewarding and also gives your space a unique look!
Here are some DIY ideas you can play with!
1. Paper-made flower toran.
Indian festivals are full of colours! Therefore, different colourful flowers are widely used for most festive decorations! While original fresh flowers always look pretty, you can make some paper flower torans that last several festival!
Making torans with paper flowers is super easy. Take some coloured papers cut into circles. Stack some pieces one over another and staple them in the centre. Now, cut the edges in petals or fringes and fluff them to look like flowers.
Once you have made adequate flowers, take a long string and place them vertically and hang them around pillars, curtain rods and anywhere you deem fit!
Some fuller colourful torans give out a perfect festive vibe to your home!
2. Bangle candle holder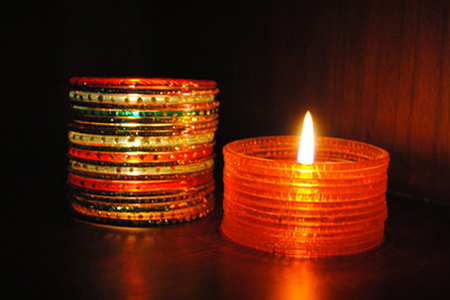 The DIY festive decoration ideas for your home must include some centre table decor pieces like a tealight candle holder! For all Indian festivals, lights and candles are considered auspicious as they signify the source of energy and positivity that drive away the darkness!
Thankfully, you can make some pretty candle holders with just some bangles and hot glue! Just stack some bangles one by one and put hot glue in between them. Keep doing it until you reach the height of that candle!
The candlelight coming through the shimmery surface of the bangles will look dreamy! You can also make such pieces for gifting purposes!
3. Wall hangings with beautiful motifs
If you are looking for some decoration ideas for festivals and suitable for all seasons, wall hangings are the perfect pick!
Fo Indian festive decorations, you can choose bird, elephant, flower, etc. motifs. Take a scrapbook and cut it in the shape of motifs you want for the wall hangings. Paint and colour each of the cutouts for a vibrant and festive look. Punch a hole in each cutout and tie them vertically one by one on a string.
You can also add one or two small bells for a complete look. Hand them in the corner of the home, or use them as a backdrop for pictures!
4. Wall murals or sketches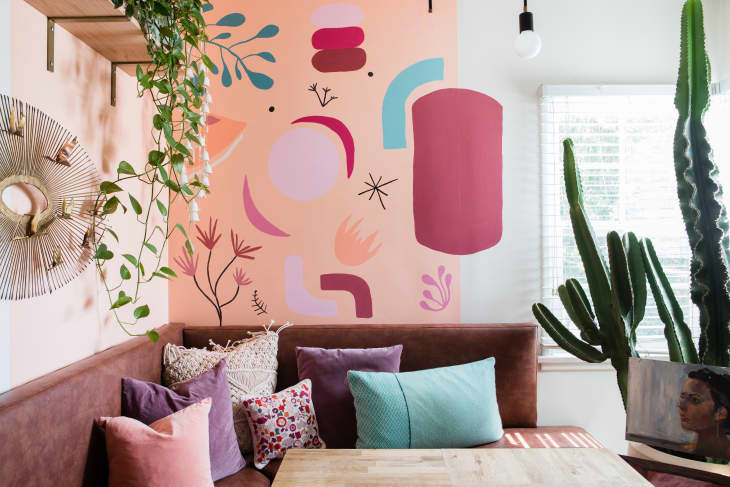 One of the easiest ways to make a plain wall interesting and eye-catching is to make wall murals! These are so much in fashion right now!
Besides decorating your home walls, a DIY wall mural also gives you an opportunity to hone your artistic acumen and show it to your guests!
You can refer to Pinterest for inspiration! If you are not confident about a full-wall sketch, start with a smaller area away from your living room!
Do you want to share such DIY festive decoration ideas for your home with us? Comment down below!